Hot water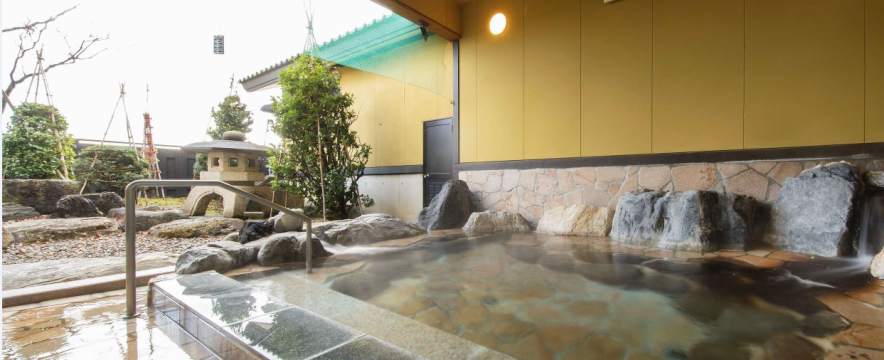 Moisturizes the skin ...Please enjoy hot water like natural lotion
The gentle and comfortable hot water contains a lot of fountain quality in the beautiful skin effect, and moisturizes your bath moisturizing the skin moistly.
2 bathrooms / 2 outdoor baths (summer open-air bath one tank is source water bath), dry sauna · mist sauna · source with shower.
Please enjoy two kinds of hot springs.

~ What is metasilicic acid ~
Alkali hypotonic cold spa "metasilicic acid"
Metasilicic acid is said to be a natural moisturizing ingredient, it promotes metabolism of the skin, it is a beautiful skin ingredient that makes it slippery.
It is said that by entering a hot spring containing metasilicic acid, it can be expected to trim ceramides of the skin.If the content of metasilicic acid is 50 mg or more, it is said to be effective for beautiful skin, if it is over 100 mg it is said to be hot water with strong skin-beautifying effect.
The facility's "Kagetora no Yu" contains 130 mg of metasilicic acid, so it is Bihada-no-yu spring with confidence that you can say "beautiful Bihada-no-yu" "beautiful waters" with confidence.

~What is sodium chloride~
Chloride fountain hot springs have high heat retention and moisturizing effect.
Dissolved substances exceed 10,000 mg / kg, but such hot springs are called "hypertonic".
This hypertonicity is a "dense hot spring" which is higher than the concentration of cellular fluids in the body and is one of the few valuable hot springs.
The salt fountain covers the body with salt ingredients, so it is difficult for heat to escape and it is called "hot water" or "warming hot water".It is a hot spring that is difficult to cool down, and the body is always warm.The chloride spring also has a moisturizing effect due to this coating action.